Sunday 12 march evening around 19.30.. I get a message on Facebook from Mats Klasson from Kafé K Sweden..
"Good sunday Alain! Time is running fast. It's soon midmarch and I soon need your text for Gäst med G på K, to be published april 1. Mail me a portraitphoto too, and a short presentation text (maximum 3-4 lines). It's ok if I get the text, photo and presentation latest next weekend (18-19 march). Best wishes from Mats K."
Hi there Mats.. Sorry man I completely forgot about this but I will do this this week ..I promise!
So here I go in a crappy style that we best can describe as a sort of diary for dummies.. :)
Dear diary ..a lot of stuff is going on lately and I have to admit It feels great that I have so many musicfriends here in Belgium and more and more around the world .. Greece, France, Netherlands , Bangladesh, Australia , America , Chile, Cuba , Spain , Canada , Switzerland, Mexico .. a lot of people I met during travelling but also through thee internet or through working in the musicbusiness.
As a Belgian musician I always try to play with a certain loyalty to who I am as a Belgian musician ..not as a patriotist or nationalist not at all! F%%k that shit …but who are we as local musicians here in Belgium, what are our roots.. ..?
Of course I grew up with a lot of English and French stuff playing on the radio but later as I started travelling and busking around, I discovered that we don't have a lot of music of our own. The Irish people they have their own music, as in Spain the Flamenco and in Greece Rebetico, the Cubans even have their own guitar Un tres with three strings that gives a typical Cuban sound, and so on and on.
It was something I missed as a Belgian ..
So my journey started since ..and it still is going on ..
What I can say is very simple .. you have me as a musician playing on his own and me as a member of a band and then there is the comedian and critique who writes and tries to compose and arrange all kinds of atmosphere music and funny stuff.
In general I play the blues but then in all the forms available: American Roots blues, Flamenco, Rhebetico , Fado influence, Folk ..even punk you can make authentic, kinda bluesy.. There was a time I did also interpretations of Captain Beefheart and Tom Waits etc, but I stopped with pretending… ( sometimes just for fun Live on stage)
It was as some kind of search but it helped me a lot to find my own voice.
There´s also a pure rock n 'roll side and a French chansonier inside of me .. ( I love Lou Reed & Serge Gainsbourg ) big influences in English and French sounding music
I love to experiment with languages because then your own sound is changin' and you use a complete different spectrum and emotion .
So if I sing in French I use a different place in my throut than if I sing English or Spanish ..
The most sincere I can be is as I sing in my own dialect of Leuven .. not a lot of people can still speak this dialect and I find it as my duty to record this dialect because it is our heritage and it has ( like it was a painting of a certain time ) to stay for always alive at least in the archive and in the atmosphere of the sound in eternity ….here a song I wrote about 3 years ago for an album about my home town Leuven and sang in the local dialect, Itse pikke.
Ok enough bla bla about the search for my identity as a Belgian musician. On this Soundcloud & Youtube you can have some idea what I'm doing.
Sweden which has been good to me .., Mats Klasson a nice guy I met on Facebook because we share the same love for crazy music, and he proposed several times to have some publicity on the great platform of Kafé K. Thanks a lot Mats!
Then you have my Swedish friend Mathias Widtskiöld that I met in Brussels in 1996 ..he had a great musicplace named Phils Bar. I played many times over there , now he's the owner of the record label Mottow Soundz located in Brussels.
Here you can check out his label.
Mathias is also a super sound engineer and he's now mixing our new album that he recorded with us a few moths ago. Our band's name is FUSCO .. we are 4 guys ..boys with toys and we love to jam and make songs together .. the guitarplayer Manu Ribot is also a great friend and I met him also in Phils bar in 1996. We always played in different bands and always said to play in a band togheter one time so now we do. :-)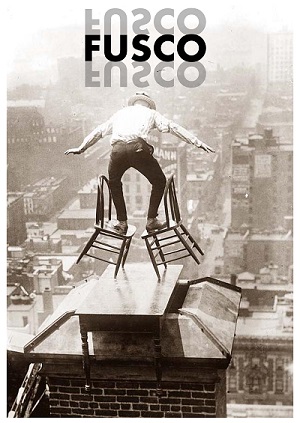 Manu also makes great music of his own, he's a great composer & one of the most original minimalistic guitarplayers I ever met.
Here you can check his music:
Ticky Tacky – Manu Ribot
Dano the blind – Manu Ribot

On the bass we have Eric Dory a great bassplayer and guitarist ..he used to play also with Manu in another band named Claude Zac.
Eric makes great catchy songs and is a well respected musician in Brussels.
Here you can hear Eric in action on Soundcloud.
Our drummer's name is Bernard Van Hecke, he's also a guitarist composer and underground video director, he's a great actor and an incredible talented funny guy. I used to play as a duo with Bernard just drums and me guitars, this was just before we started playing with a full band.
Here you can see a video he made during the recordings in summertime last year in the end of august. That time FUSCO was still named Zool, but as there already was a band here in Belgium who play Polka music we changed our name after to FUSCO, Fusco is also the name of Bernards cat.

Bernie's youtube channel with a lot of music video's he made.
It would be great to play one day in Sweden. Still although I travelled a lot I wasn't there!! We have the possiblility and the connections so we have to talk about this.The music of FUSCO I would describe as raw and different, a bit psycho underground and in the same time just normal to us.
What I do know is that we are strong when we play live. I played in quite a few bands but with these guys it's just rock 'n roll, 1,2,3. And we are a FUSCO animals who eat what the public feed us.
FUSCO album coming out soon!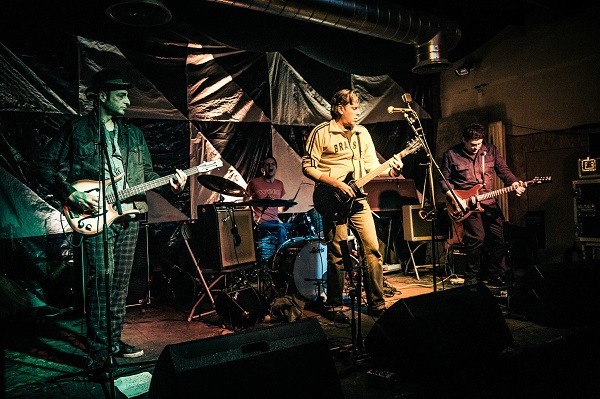 You can check and like us on Facebook.
Live video: Live in vain

Sköll!
Alain Louie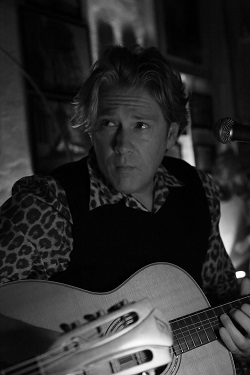 Photo by Yann Thivelet
Alain Louie is a musician from Belgium who wants to put the Belgian identity in the music he composes. A bit of surrealism in Rock'n Roll. With the band FUSCO a new album is released soon.
Tidigare Gäst med G på K  i mars 2014: Anna-Karin Mattsson
Tidigare Gäst med G på K  i maj 2014: Oskar Rickardsson
Tidigare Gäst med G på K  i juni 2014: Viktoria Johansson
Tidigare Gäst med G på K  i juli 2014: Elin Englund
Tidigare Gäst med G på K  i september 2014: Bosse Freij
Tidigare Gäst med G på K  i oktober 2014: Molnmannen
Tidigare Gäst med G på K  i december 2016: Lina Arvidsson
Tidigare Gäst med G på K  i februari 2017: Rick Titrö
Tidigare Gäster med G på K mellan 2009 och 2013 hittar ni HÄR.